All Occasion Assortment Greeting Cards
Boxed set of 10 cards. 1 of each design










Some cards in this assortment utilize the Magic Eye 3D Floaters Illusion. When you view the image using regular Magic Eye viewing techniques, the image elements float in 3D space at different levels of depth, and the entire scene becomes three Dimensional!
All Occasion Assortment
SKU:gc_occasion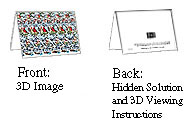 The Magic Eye All Occasion Assortment is a boxed set of 10 greeting cards, 1 each of 10 different designs, with 10 envelopes. The inside of the card is blank and the back of the card provides the hidden solution with instructions on how to view hidden Magic Eye illusions. All Greeting Cards are 7 inches by 5 inches.
© 2018 Magic Eye Inc., All Rights Reserved