Magic Eye Have Fun in 3D Book
New! 52 pages, Signed!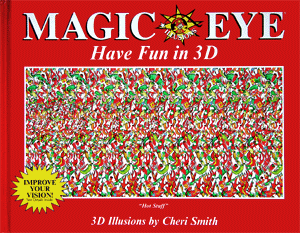 SKU:bk_mebfun
Purchase our latest book!
Magic Eye 3D images have been published in the Sunday comics section of newspapers internationally for over 20 years. If you love the Magic Eye Sunday Comic you will love this book!
This hardcover book contains Sunday Comic 3D favorites printed on bright white paper (not newsprint!).
Have fun in 3D!
© 2018 Magic Eye Inc., All Rights Reserved